National Leadership Consortium Bulletin
The National Leadership Consortium on Developmental Disabilities Bulletin is a free, web-based publication dedicated to providing relevant, trustworthy, and thought-provoking information to leaders and practitioners in the field of developmental disabilities support services. The Bulletin will serve as a bridge between scientific journals and day-to-day leadership, exploring timely research and policy issues in the leadership and disabilities fields with the aim of promoting organizational change and assisting leaders to support people with disabilities to experience inclusive, valuable, and meaningful lives.
All information provided or published by the National Leadership Consortium on Developmental Disabilities is for informational purposes only. Reference to any treatment, therapy, program, service, research or research entity, organization, or provider is not an endorsement by the National Leadership Consortium on Developmental Disabilities. The National Leadership Consortium on Developmental Disabilities assumes no responsibility for the use made of any information published or provided in the Bulletin.
---
Bulletin 1: Leading Through Times of Chronic Stress
Published: January 19, 2022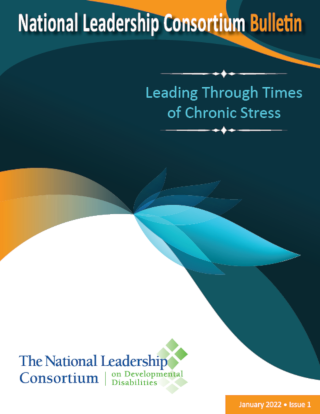 Description:
In this issue of the Bulletin, we explore chronic stress and trauma on leaders of disability support service organizations and on the organizations themselves as well as strategies that promote individual, organizational, and systemic well-being and resilience. We explore the paradox that organizations as well as individuals can be both struggling and embody hope, joy, and resilience. Topics in this edition include: Direct Support Professionalsí Perspectives on Workplace Support, Recognizing Stress and Trauma in Your Organization, Avoiding Burnout, and Tips and Tools for Helping Stressed Out Organizations.
---
Bulletin 2: Leading the Current Workforce
Published: May 30, 2022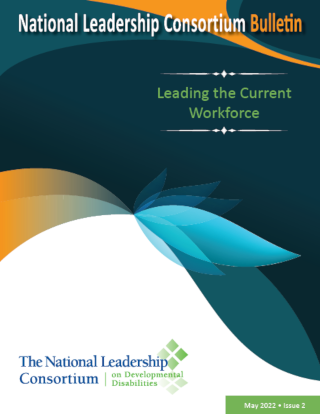 Description:
The COVID-19 pandemic has fundamentally changed our workforce. People with disabilities, families, and professionals have experienced incredible trauma, hardship, and sometimes innovations and learning that will have lasting impacts on our organizations and services. The pandemic and current federal priorities also call attention to opportunities for workforce investment that we havenít experienced to date. The topics highlighted in this issue require us to lead intentionally to meet the opportunities, demands, and challenges currently facing our workforce. The articles in this issue of the Bulletin provide examples, research, evidence-based practices, practical recommendations, and resources that can help you better understand the current workforce and inform responsive leadership approaches and strategies.
Download additional information about the Innovative Initiatives Q&A: The Collaborative for Citizen Directed Supports New Jersey, Mapping the Future: Sustaining a Vibrant DSP Workforce
Innovative Initiatives Q&A Mapping the Future
---