Midwest Leadership Institute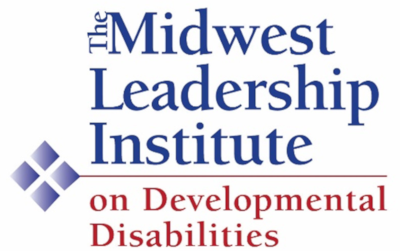 The Midwest Leadership Institute on Developmental Disabilities is an opportunity to come together with other agency leaders to learn from each other, leading experts, self-advocates and their families, and funders. This program is being offered in Kansas City, Missouri May 7-12, 2023. The National Leadership Consortium will bring their week-long intensive program that will support leaders to transform supports in the Midwest for people who have a developmental disability. Guest speakers and self-advocates from the Midwest will be added to supplement an agenda of compelling workshops and presentations. The expected outcomes of the Midwest Leadership Institute include:
• Exploring new service models - developing leaders who think beyond the current "traditional" service models
• Succession planning - developing "next in line" leaders preparing them for executive level positions
"The Leadership Institute energized me and made me realize all leaders need to attend to re-commit to their vision and to be with other leaders to discuss their biggest obstacles and greatest successes!"

- Tiffany Devon, Dir. of Communications, Detroit Wayne Mental Health Authority, July Leadership Institute 2018




"I recently graduated from the Leadership Institute in Kansas City. It was a week packed with reflection, learning, networking and camaraderie. I came to the institute with over 35 years of management experience but left with many new ideas and a fresh perspective. It would be without hesitation that I strongly recommend the institute for both emerging and seasoned leadership staff. We would love to have you in our network!"

- Brad L. Klug MSW, Regional Director, One Vision, Midwest Leadership Institute 2019




"If was an AMAZING week. Not only was I able to look at issues within the field, but I was able to assess my organization's role. Most importantly, I was able to reflect about my strengths, passions and areas where I need to improve. It was an action-oriented week which was refreshing, and I feel armed with tips and tools to be an agent of change in my organization and community"

- Kim Tenure, Education and community Outreach Coordinator, The Arc Arapahoe & Douglas, Colorado Leadership Institute 2016
The Nitty Gritty:
| | |
| --- | --- |
| Date: | May 7- 12, 2023 |
| Location: | Kansas City, Missouri |
| Tuition (includes some meals and all supplies): | $1500 USD (Early Bird Rate, applications received prior to or on March 8th); $1800 USD (Regular rate, applications received after March 8th and before or on March 31st). We will send an invoice after you are accepted. |
| Participants: | Limited to 37 spaces, chosen by rolling admission application process |
| Deadline: | March 31st, 2023 |
Applicants should work in areas of management or program leadership in organizations that provide, advocate for, or fund community-based services and support for people with developmental disabilities and their families. Participants will be selected through an application process administered by the National Leadership Consortium. Application deadline is March 31, 2023.
Why a Leadership Institute?
A crisis is looming in the field of developmental disabilities. Fully two-thirds of current CEOs and executive directors of nonprofit organizations, and an equal number of government senior managers, anticipate remaining in their positions for five years or fewer. Many leaders of disability organizations are reaching retirement age and there is not a "next generation" of leaders prepared to move into these positions. In a study by The University of Delaware, over 50% of the CEOs surveyed did not have a succession plan for their organizations. Almost without exception, the leadership crisis has been a major topic of focus at recent conferences for developmental disability professionals.
While some generic non-profit management and leadership courses are available nationally, none exist that are specific to leaders in the complex and changing field of developmental disabilities services. The National Leadership Consortium on Developmental Disabilities recognizes the responsibility to respond to this emerging crisis and is joining forces with fifteen major developmental disability organizations to offer intensive week-long training for emerging leaders in the developmental disabilities field.
What does the Leadership Institute Offer?
The Leadership Institute offers a select group of future leaders from organizations across the United States and internationally, the opportunity to come together with a fabulous faculty of national experts on progressive supports for people with disabilities. The Institute supports the development of skilled leaders who are passionate about quality, have the leadership, management and financial skills needed to run solid not-for-profit businesses and government agencies, are capable of assembling top-notch teams of caring staff, and have a solid commitment to progressive values that assured lives of meaning and impact for the individuals receiving support.
The course emphasizes participation and collaboration. Extensive reading and structured assignments are required in advance. Written assignments and individual and group participation during the week are essential.
A highlight of the course for past participants has been the relationships that are built over the week-long experience. Participants will leave with a network of colleagues and enduring relationships with some of the most influential leaders in the field.
The focus of the Leadership Institute is on supporting participants to determine and set organizational direction to move their organization to a high-performance model, and build a lifetime network of peers and leaders to sustain career growth.