Reports
The National Leadership Consortium often conducts national and regional research for grant funded projects which result in reports packed with information aimed at advancing the rights, services, and supports for people with disabilities. Read our research about the important topics of self-directed services and supports, future financial planning for people with disabilities, and more in our reports.
---
Future Financial Planning for People with Disabilities, What's Working and What's Not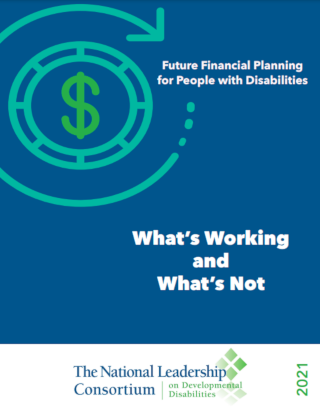 Today, many people with disabilities are living longer and striving to enjoy productive, self-directed lives, making the need for future financial planning more critical than ever before.

However, most adults with disabilities do not have a plan in place to secure their future financial wellbeing due to numerous personal, systemic, and societal barriers.

To address this discrepancy, the National Leadership Consortium on Developmental Disabilities received funding from the May and Stanley Smith Charitable Trust to investigate the current state of future financial planning by exploring the literature and services available; and conducting a research study to reveal challenges, facilitators, and perspectives of people with disabilities, their families, and experts in the disabilities, legal, and financial planning fields.
Recommendations Framework
A Recommendations Framework was developed based on this project with the aim of informing and guiding the standards, practices, and accessibility of family future and financial planning and support services for people with disabilities. The framework suggests structures for beneficiary-centered best practices in supporting family future financial planning, a repository that provides up-to-date resources and information on future planning for families and providers, an oversight entity to offer guidance to families and providers uphold best practices in the field, and sustainable funding for such an entity's ongoing advocacy of national quality standards.
Download Recommendations Framework
---
Investigating the Impact of Covid-19 on Future Financial Planning for People with Disabilities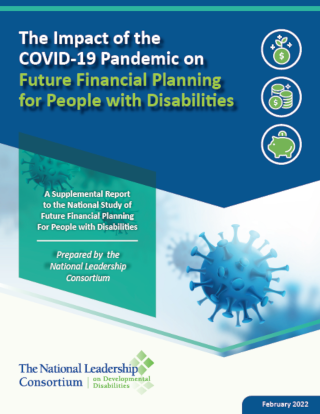 People with disabilities in the U.S. have historically been underemployed and underpaid, limiting their ability to save for their futures. The National Leadership Consortium interviewed 40 adults and family members of people with disabilities to investigate the impact of the COVID-19 pandemic on the spending and saving habits of people with disabilities and how it affected their future financial planning. Findings showed that the pandemic intensified existing economic standings, with some facing more systemic and personal barriers that negatively impacted their ability to engage in future financial planning, while others were afforded more time and money to plan for their futures. Recommendations for government entities and the financial, legal, and disabilities fields are presented.
Download 'Investigating the Impact of Covid-19 on Future Financial Planning for People with Disabilities'
---
I/DD Provider Survey on Self-Directed Services and Supports
In 2018, the National Leadership Consortium conducted a national survey of service providers to better understand how providers are supporting adults to lead self-directed lives and the barriers and catalysts to such supports. The survey was initiated by the Spark! Initiative, an Optum Group, which is comprised of representatives of more than 25 organizations focused on developing a variety of resources and strategies to address barriers and support a national shift towards self-directed services and supports. The I/DD Provider Survey on Self-Directed Services and Supports included questions about barriers and facilitators to self-direction, agency practices of self-direction, and individual values about self-direction. The 475 respondents ranked barriers and facilitators to better understand what holds agencies back from or assists them in providing self-directed services. They were also asked to share agency practices and values around self-direction, to better understand how agencies operate to provide self-directed services and supports. Recommendations for state and federal policymakers, Managed Care Organizations, provider agencies, and people with I/DD and their families are presented.
Download 'Final IDD Provider Survey on Self-Directed Services and Supports Report'

Download 'IDD Provider Survey Executive Summary'